SCS PASSTIGHT DOORS
FEATURES
---
Cold Storage Applications
Thermally-Broken Construction
Single & Dual Doors Configurations Available
Easy & Waterproof Washdown
Optional Window with Blackout Cover
Corrosion-Proof Construction – No Wood
Corrosion-Proof Construction – No Wood
PassTight Man Doors with Seal and Quick Install IMP Frame Detail
Storage Control Systems is proud to offer a range of doors as the standard for insulated and cold storage facilities. Having the ability to seal a room beyond the capabilities of a typical commercial doors eliminates vapor drive, keeping the atmosphere isolated within a room for ultimate control.
With most operations using insulated metal panels as standard, the PassTight doors is a logical choice for a storage
room's single or dual man doors that is simple to install. Notedious fitting of a six 5.5" steel frame doors in a 4" or 6" IMP wall; the sandwich design allows for speedy install and a remarkable finish for a professional look with all of the added benefits mentioned above. SCS PassTight doors are economically priced and the installation time savings make them the answer for your operation. All SCS doors are constructed with a thermally-broken aluminum framework around the perimeter, urethane foam filled leaves, and with the option to have the frame heat-traced for freezer applications.
Doors leaf constructed of a core of insulation material, covered on both sides with 4mm lacquered aluminum composite plate with a core of plastic.
Single: 3'x7' (37.375"x84.625"H) or 4'x8' (47.25"x96.5"H) Dual: 6'x8' (74.75"x96.5"H)
4" (utility/refrigeration), 6" (freezer, special order option)
Std. 4" approx. 4,03 (m².K/W)
Similar to RAL 9010 (white)
Rubber profile seal complete around doors perimeter
Anodised aluminum clamping frame for wall thickness 2-4", 4 – 6", or 6 – 8".
Exclusive (utility/refrigeration), Inclusive (freezer).
Exclusive (utility/refrigeration), Doors frame & threshold (freezer)
Stainless steel/plastic rising hinges.
Pull fastener handle with cylinder lock on exterior/inner emergency release by means of a push button; outside fastener/handle with cylinder lock (special order).
Deviating measurement, doors leaf and outer frame in stainless steel, outer frame all round, window in the doors, doors closer, storm chain, rain hood and more.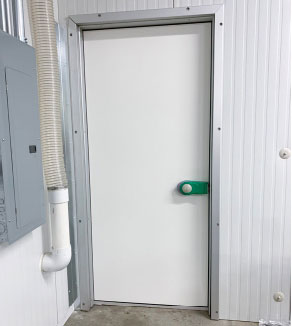 SCS PassTight Inswing Mounting Option